Our Founders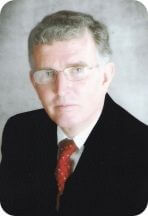 Edward (Ed) Davis is a retired band director from Clayton County, Georgia. He taught for 30 years in this system. He is now Director of Bands at Community Christian School in Stockbridge, Georgia. He has been listed in Who's Who Among America's Teachers five times. A member of the National Band Association, he has been a recipient of that organization's Citation of Excellence. He has also received the Sudler Cup from the John Philip Sousa Foundation, and he was selected into the John Philip Sousa Legion of Honor.
Mr. Davis has held several offices with Georgia Music Educators Association, including State Band Chairman, 2nd Vice President, and President. He is a founder of ENCORE! Music Camps which provides summer camp opportunities for middle and high school band and orchestra students, and he is one of the co-founders of Tara Winds.
Mr. Davis is active as a guest conductor and as an adjudicator. Bands under his direction have received 67 consecutive superior ratings and Georgia Music Educators Association performance evaluations. He is currently serving as the conductor of the Jonesboro First United Methodist Church Orchestra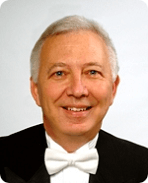 David Gregory, retired Director of Bands/Coordinator of Music Education at Reinhardt University and Director Emeritus of Tara Winds, has conducted elementary, junior high, high school, community college, university, and professional bands. A former director of bands at Hardaway High School in Columbus (GA), Forest Park High School in Forest Park (GA), and the University of Florida in Gainesville, (FL), and former Clayton County (GA) Coordinator of Instrumental Music, Dr. Gregory served as Assistant to the Superintendent in that school system for twelve years until his retirement from public school work in 2003. Dr. Gregory is a Past President of the National Band Association and currently serves as Advisor to the Executive Committee of that organization. At Reinhardt University Dr. Gregory teaches Music Education classes, music technology, conducting, and orchestration and arranging courses; conducts the Wind Ensemble; supervises student teacher interns; and is coordinator of the Music Education program. He has been the state NAfME Collegiate (formerly CMENC) advisor and coordinator of all state NAfME Collegiate activities for GMEA since 2007. Bands under Dr. Gregory's direction have received invitations to perform at virtually every music conference of regional and national significance. Gregory continues to make numerous appearances as conductor, clinician and presenter at regional and national music conferences as well as all-state and honor band events throughout the United States. He has presented clinics/workshops at the Midwest Clinic on four occasions and at the GMEA Conference nine times. Tara Winds was the 1996 recipient of the Sudler "Scroll of Honor," and his Hardaway High School Band was honored by the John Philip Sousa Foundation as one of the nation's most outstanding high school programs for the decades 1960-1980. A highlight of Dr. Gregory's career is the distinct and singular honor of having his ensembles invited to perform at 40 conventions and conferences of state, regional and national significance.

In August, 2001, Larry Volman retired after serving as the first Coordinator of the Clayton County Schools Performing Arts Center located in Jonesboro, Georgia. Mr. Volman served as the administrator of this nationally acclaimed facility from its opening in 1990. A native of Memphis, Tennessee, Mr. Volman holds Bachelors and Masters degrees from the University of Memphis. Prior to being responsible for opening and subsequently administering the Performing Arts Center, his tenures included Associate Director of Bands at the University of South Carolina, Band Director at Morrow High School in Morrow, Georgia, and Band Director at Briarcrest and Overton High Schools in Memphis.
Bands under Mr. Volman's direction received superior ratings at state music festivals for 23 of the 24 years in which he taught. Students in his bands always excelled individually. Each of the high school band programs he directed led their respective states in the number of students selected for All-State honors. His concert, jazz, and marching bands won many competitive events. While Mr. Volman directed the Morrow High School Band, it was invited for appearances throughout the Southeast, including the University of Southern Mississippi.
Professional honors for Mr. Volman include being named "Outstanding Young Educator of the Year" by the Memphis Jaycees and "Most Outstanding Band Director" in Tennessee for 1976. He was also honored to serve as President of the Tennessee Music Educators Association. Mr. Volman has served as President of both the Tennessee and Georgia Chapters of Phi Beta Mu Bandmasters Fraternity. On four occasions he received the National Band Association's "Citation of Excellence". Mr. Volman is a co-founder of the internationally acclaimed Tara Winds Community Band.
Upon his retirement as an educator, Salem Baptist Church of McDonough, Georgia called Mr. Volman to serve as Minister of Administration for that congregation.
Conductors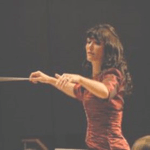 Andrea DeRenzis Strauss, Conductor of Tara Winds, has taught elementary, middle school, high school, college, and adult community bands, and has taught at both public and private schools in Georgia. A native of Clarence, New York, Dr. Strauss earned both the Bachelor and Master Degrees in Music Education from the University of South Carolina and attained a Ph.D. in Music Education with a minor in Conducting from the University of Southern Mississippi. In addition, Dr. Strauss completed the Educational Leadership Certificate Program at Kennesaw State University.
Dr. Strauss served as Director of Bands and Associate Professor of Music at Shorter University where she made significant contributions to the development of the instrumental music education degree program. At Shorter, Dr. Strauss taught conducting, various instrumental music education methods and pedagogy courses, and directed the marching band, wind ensemble, and chamber orchestra.
As former Director of Bands at the Georgia Institute of Technology, ensembles under her leadership performed in Australia, Ireland, and China for such events as the Shanghai International Arts Festival. While serving Georgia Tech for six- teen years, the Symphonic Band commissioned numerous works and performed for Southern Division College Band Directors National Association/National Band Association Conferences, and Georgia Music Educators Association In-Service Conferences. In addition to sustaining a teaching career at Georgia Tech, Dr. Strauss served as Associate Director of the 1992-1996 Atlanta Olympic Band.
Dr. Strauss retired in 2013 from the Cobb County School District. She is an active clinician and adjudicator, and has conducted All-State Bands in California, Florida, Georgia, Michigan, North Dakota, and South Carolina. She has conducted in Italy, adjudicated in Canada, and presented clinics on various aspects of teaching and conducting for the Eastern and Northwestern Division NAfME In-Service Conferences, the Texas Bandmasters Association, and numerous GMEA In- Service Conferences and university symposiums.
Dr. Strauss has had articles published in the Music Educators Journal and the National Band Association's Journal. As a member of the National Band Association's Board of Directors, she has served as the Music Education Research Chair, Mentor Director, and State Chair. In addition, she has served as a National Representative for Tau Beta Sigma, State Chair for the CBDNA, Board of Directors Representative for the Georgia Chapter of Phi Beta Mu, and Ninth District Officer for GMEA.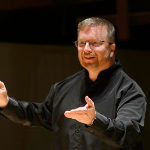 Dr. David W. Vandewalker
Associate Conductor
David W. Vandewalker is the Coordinator of Performing Arts for Fulton County Schools (Atlanta, GA) supporting the music education and music therapy faculty in 57 elementary schools, 19 middle schools, and 17 high schools who serve approximately 96,000 students. He earned degrees at Baylor University, Central Michigan University, and Boston University where he received the Doctor of Musical Arts degree in Music Education.
Dr. Vandewalker is the founding artistic director and conductor of the professional ensemble, Cobb Chamber Winds, the associate conductor of the nationally recognized Sudler Scroll recipient ensemble, Tara Winds, and the administrator, artistic director, and principal conductor of the Metropolitan Atlanta Youth Wind Ensemble. As a performer, he enjoys artistic development as a vocalist, cellist, and clarinetist with twenty-seven years of teaching experiences spanning elementary, middle school, high school, and higher education as a conductor of both choral and instrumental ensembles. Additionally, David studied with Jos Wuytack, student and friend of Carl Orff, for his Orff-Schulwerk Level 2 certification and served as a lead curriculum writer for both Cobb County School District and the Georgia Department of Education.
Most recently, Dr. Vandewalker served as the associate director of athletic bands/ assistant director of bands at Georgia State University (2012-2016) and Director of Bands at Harrison High School in Kennesaw, Georgia (2000-2012). A Conn-Selmer Artist/Educator, he has led concerts before esteemed audiences such as the CBDNA/NBA Southern Division Conference, Music for All National Concert Festival, and the Midwest International Band and Orchestra Clinic. Marching Bands under his direction received honors including participation in the 57th Presidential Inaugural Parade, 2009 & 2014 Macy's Thanksgiving Day Parade, ranked top-ten nationally by the 2013 College Band Directors National Association (CBDNA), and Bands of America Grand National Finalist (Top 12).
As an avid supporter of new music for the wind band, Dr. Vandewalker consistently works with composers, arrangers, and performing artists in the wind band medium. Residencies and collaborations with composers and other conductors are integral to his creative work. He presently serves on the national board of directors for the ASPIRE (Advancement of Secondary and Primary Instrumental Repertoire Excellence) Commissioning project. Performances under his direction have received the praise of such notable composers/conductors as Steven Bryant, David Dzubay, John Mackey, Scott McAllister, Ray Cramer, Fredrick Fennell, Col. Arnold Gabriel, Gary Green, Michael Haithcock, James Keene, and Kevin Sedatole.
Dr. Vandewalker is a recipient of the Sudler Flag of Honor, nine- National Band Association Citation of Excellence Awards, three National Wind Band Honors Awards, is recognized in multiple editions of Who's Who Among American Teachers, and is an elected member of the American Bandmasters Association. He has published numerous articles in professional journals, chapters in multiple volumes of the Teaching Music Through Performance in Band book series (GIA) and Rehearsing the High School Band (Hal Leonard), books including Boosters to the Rescue, and Strategic Plans for a Successful Booster Club (GIA), and Foundations for Wind Band Clarity- Arrangements for Concert Band, Foundations for Wind Band Clarity- Instructional DVD, and Everyday Stuff Every Director Needs to Know (Vision Publications). Additionally, Vandewalker is a nationally-renown staff development presenter with multiple clinician appearances for GMEA, Music for All Summer Symposium, Smith Walbridge Directors Institute, Texas Bandmasters Association, and the Midwest Clinic.
David and his wife, Pamela, reside in Marietta where she is Minister of Creativity and Worship Programming at Johnson Ferry Baptist Church where she has over 900 children actively involved in music making each week. Pamela (Master of Music in Choral Conducting - UM/Kansas City Conservatory) is a 2014 Dove Award winner for Best Children's/Youth Musical in her collaboration with Veggie Tales/Big Idea. Together, David and Pamela created Teeny Tykes and Tunes, an early childhood music curriculum series published in English and Spanish (Vision Publications) along with Teeny Tykes and Tunes: Africa Edition, Volume 1 and 2 (CLMC/Nairobi).
Musicians
Piccolo
Linda Volman Lane, Flute Professor, 24, 1
Flute
Zandra Bell-McRoy, Band Director, 30, 11
Christie Biffle, Music Teacher, 30, 9
Cole Carver, Software Developer, 15, 2
Katherine Crozier, Band Director, 15, 4
Catherine McKinnon, Ret. Counselor, 56, 27
Sarah Torrance, Flute Instructor, 17, 1
*+ Martha L. Volman, Flute Instructor, 50, 28
Laura Webb, Band Director, 36, 18
Oboe
Rachel Landers
+ Rusty Wilson, Band Director, 42, 28
English Horn
Rachel Landers
+ Rusty Wilson, Band Director, 42, 28
Bassoon
Matthew Lamar, Music Educator, 10, 3
John Lenahan, Inst. Designer, 39, 4
* Vicki Smith, Retired Educator, 12, 3
Teri Taylor, Sub. Teacher, 43, 27
Contrabassoon
John Lenahan, Instructional Design, 39, 4
Eb Clarinet
Bora Moon, Freelance Musician, 18, 5
Bb Clarinet
Kenneth Beard, Band Director, 53, 18
Jean Brumbeloe, Retired, 53, 4
+ Claudia Bullington, Mus. Art Ed., 46, 28
Lynn Conti, Accountant, 45, 13
Lacie Craig, Woodwind Instructor, 18, 3
Carrie DeWinter, Banking, 21, 2
* Dickson Grimes, Tax Accountant, 51, 11
Gail Grimes, Business Continuity Cons., 51, 11
Min Kang, Band/Strings Teacher, 25, 5
Camilla Keever, Band Director, 37, 17
+ Linda Kirchner, Ret. Music Teacher, 53, 28
Rhonda Minch, Accountant, 24, 5
Bora Moon, Freelance Musician, 18, 5
Michael Pace, Band Director, 19, 1
Dina Rosas, Music Teacher, 19, 1
Chantell Scriven, Band Director, 23, 4
Kyle Sullivan, Engineer, 16, 2
Doug Torrance, Math Professor, 25, 1
Aileen Ward, Elem. Music Tchr., 17, 5
Andy Welker, Mortgage Processing Mgr, 23, 6
Myrtle Williams, IRS Employee, 43, 11
Eb Alto Clarinet
Gail Grimes, Business Continuity Cons., 51, 11
Bb Soprano Saxophone
Brad Rikard, Band Director, 21, 5
Eb Alto Saxophone
Margaret Blanton, HR Analyst, 43, 1
Jeremy DeWinter, Band Director, 21, 2
Evan Godbee, Band Director, 13, 2
Michael Johnson, Judicial Assistant, 13, 1
* Brad Rikard, Band Director, 21, 5
Bb Tenor Saxophone
James Wilson Jr., Band Director, 16, 1
Eb Baritone Saxophone
Frank Folds, Retired Band Director, 50, 19
Trumpet
+ Jay Asher, Retired Band Director, 45, 28
Jesse Baker, Freelance Musician, 12, 1
Blayne Bass, Route Driver, 18, 3
Kimberly Beckham, Operations Manager, 16, 2
Michael Biddle, Physician, 33, 18
Charlie Brodie, Retired Band Director, 60, 18
Ashley Godbee, Band Director, 13, 2
Scott Jones, Band Director, 36, 6
Michael Kobito, Band Director, 13, 2
Stan Kramer, Band Director, 38, 26
Ian Labreck, Band Director, 13, 2
Darvin McRoy, Band Director, 28, 13
Robert Davidson, Band Director 12, 1
* John Strauss, Esq./Magistrate Judge, 48, 27
+ Larry Volman, Retired Band Director, 62, 28
Brian Walker, Band Director, 14, 2
French Horn
Lanae Dickstein, Band Director, 15, 1
Bayne Dobbins, Inst. Repair Technician, 69, 16
Taylor Helms, Freelance Musician, 15, 1
Kathleen Kirchoff, Human Resources, 12, 1
Jonathan Kochik, Freelance Composer, 11, 1
Ethan Watson, Student, 10, 1
Lawton Willingham, Music Technology, 14, 2
* Alex Yaden, Band Director, 11, 3
Trombone
George Blevins, Architect/Real Estate, 35, 2
Trey English, Band Director
Brendon Gayron, Air Traffic Controller, 25, 5
*+ Larry Greenwalt, Ret. Band Director 53, 28
Chris Johns, Band Director, 16, 5
Christian Stephanos DCI Corp Dir., 14, 1
Robert Williams, Retired Band Director, 57, 14
Todd Wood, Retail Sales Assoc., 12, 1
Bass Trombone
Bruce Mangan, Music Ed. Para-Pro., 27, 3
Euphonium
* William Allgood, Recording Engineer, 63, 5
Tom Anderson, Retired CFP, 56, 23
Tuba
Thomas Cremer, Language Professor, 43, 5
* Alan Fowler, Band Director, 38, 22
Melinda Mason, Band Director, 9, 2
Louis Robinson, Elementary Principal, 44, 13
Corey Sherman, Freelance Musician, 15, 1
Percussion
Corey Fair, Band Director,11, 1
Abby Gaskins, Food Stylist, 24, 10
Matthew Price, Band Director, 22, 3
Daniel Ross, Data Analyst, 16, 3
Ryan Sanders, Music Teacher, 12, 1
* Nicholas Smith, Band Director, 21, 5
Bret Ward, Band Director, 15, 1
Piano / Organ
Blair Callaway, Band Director, 46, 2
Harp
Tyler Hartley, Freelance Musician
Vocals/Concert Moderator
Matthew McCord, Attorney, 14
Board of Directors Chairman
John Dyson, Retired Hotel Controller, 10
Board of Directors
Jay Asher
Charlie Brodie
Lynn Conti
Dr. John Culvahouse
Gail Grimes
Linda Kirchner
Matthew McCord
Daniel Ross
Dr. Andrea Strauss
Kyle Sullivan
Teri Taylor
Andy Welker
Rusty Wilson
Alex Yaden
Scholarship Foundation
Laura Webb, Chairperson
Frank Folds, Treasurer
* Indicates Principal
+ Indicates Charter Member
Numbers indicate years playing an instrument and years of participation in Tara Winds.
Spotlight
Vicki has been involved in music since age 7, starting with piano lessons. She started playing clarinet in 6th grade. In high school, she switched to oboe for concert season and flute for marching band, which she continued playing through college. Vicki attended UGA, and has a Bachelors of Music in Music Therapy, with a primary emphasis on oboe. She earned a Masters in Education for Severe Emotional and Behavioral Disorders, and pursued a job in that field, where she stayed for her entire career in DeKalb County Schools. Vicki switched from oboe to bassoon in 2004, staying in the double reed family. She has been playing bassoon in community groups since that time. In addition to Tara Winds, Vicki currently plays with the Atlanta Wind Symphony, Callanwolde Concert Band, and fills in with Georgia Philharmonic whenever possible. Upon her retirement in 2008, Vicki pursued her interest in photography, and is a member of several photography groups. She takes frequent trips to photograph wildlife, flowers, and landscapes. Vicki and her husband, Mike, were married in August 1976. Their family includes their daughter, Jessica and son-in-law, John Mark, who live in San Francisco, California.
As part of her interest in photography, Vicki created the slideshow for Heartland Sketches by Mark Camphouse for Tara Winds' Scholarship Concert in May 2017. Vicki requested images of rural and agricultural scenes from heartland of America from members of Georgia Nature Photographers Association (GNPA), a state-wide photography group of which she is a member. Thirteen photographers submitted over 120 images, which were used to create the slideshow on ProShow Web. Many thanks to the following photographers who submitted images for the Heartland Sketches project: Jerry Black, Sue Copley, Mary Jo Cox, Steve Crouch, Joyce Glover, Janet Newton, Ray Silva, Vicki Smith, Judy Wagner, Stephen Weiss, Steve White, Connie White, and Diane Yancey.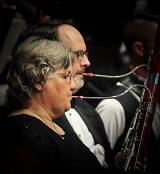 Vicki Smith